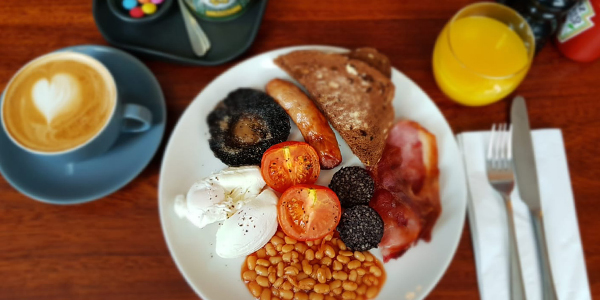 BREAKFAST

Served everyday from 10am to 11.30am
Free-range Bacon Bloomer Roll
4.95
Free-range Sausage Bloomer Roll
4.95
Free-range Poached Eggs, Rye & Sunflower Toast
5.50
Add Sausage, Bacon, Mushroom, Avocado, Salmon
2.00
Add Tomato or Mushrooms
1.75
Belgian Waffle, Berry Compote & Greek Yoghurt or Crispy Bacon & Maple Syrup
6.75
Vegetarian Full English - Veggie Haggis, Spinach, Mushrooms & Tomatoes, Baked Beans, Free-range Eggs & Toast
9.00
Full English Breakfast - Jimmy Butler's Sausage & Bacon, Mushroom, Black Pudding, Beans, Tomatoes & Eggs
10.75
FREE-SPIRITS
Freshly Squeezed Orange Juice
2.60
Cracker Apple or Cranberry Juice
2.60
Cawston Press Apple or Rhubarb 330ml
3.00
Dash Water – Raspberry, Lemon or Cucumber 330ml
3.00

HOT DRINKS

Single Origin Rwandan Filter Coffee
2.40
Double Espresso, Macchiato
2.60
Cappuccino
2.95
Americano, Flat White, Latte
2.85
Hot Chocolate
2.75
Luxury Hot Chocolate
3.00
A Pot of Proper Yorkshire Tea
2.50
Twinings Teas
2.50
Earl Grey, Green Tea, Peppermint, Citrus Camomile, Wild Encounter, Organic Jasmine
0.04
Fresh Mint Tea
2.50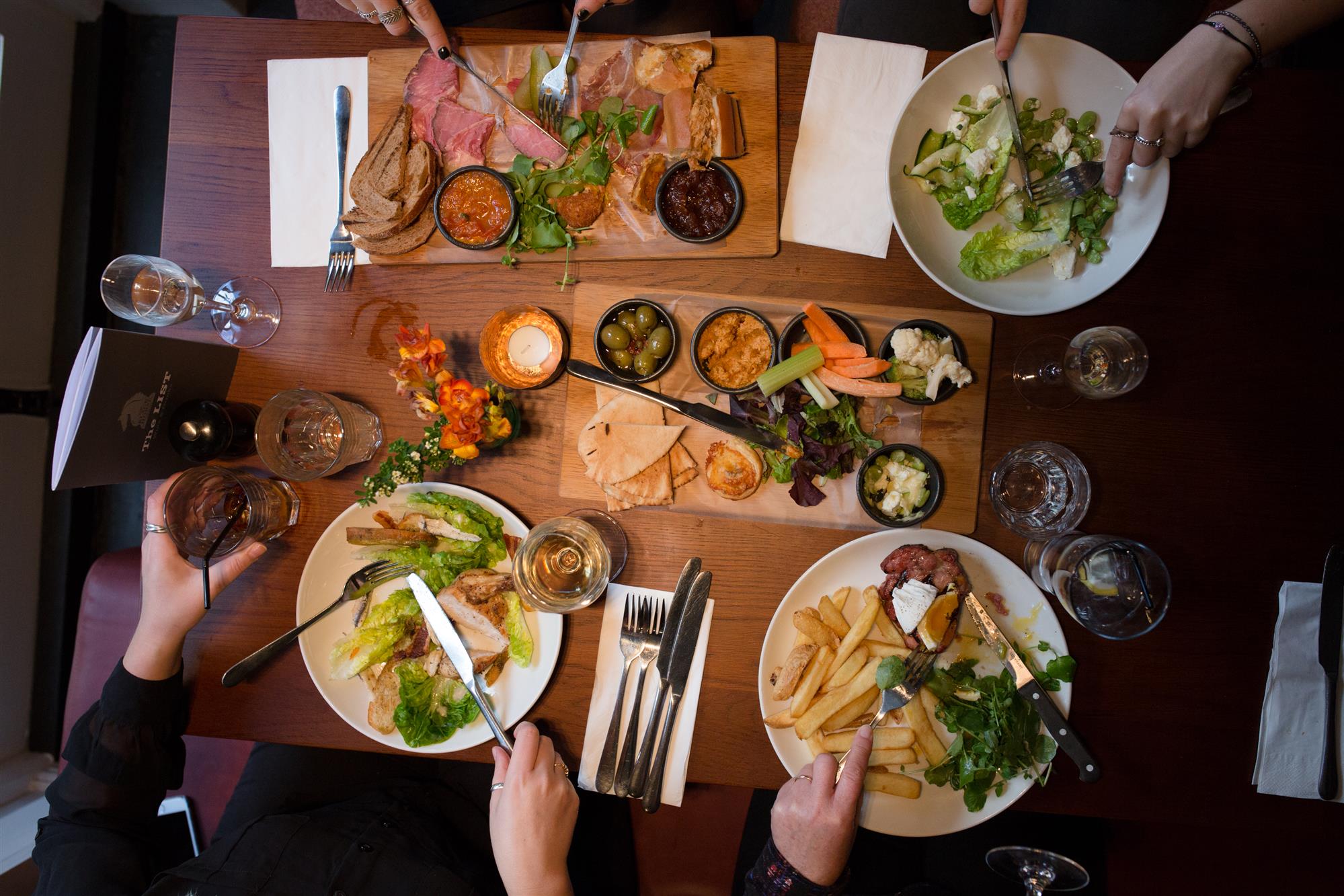 FIXED PRICE LUNCH

Served Monday- Friday 12pm-6pm. Choose two or three courses for 14.50 / 17.50

STARTERS

Sweetcorn Soup, Chorizo Crème Fraîche & Toasted Corn Kernels

Warm Crispy Camembert, Tomato Chutney & Rocket

Free-range Chicken Caesar Salad, Crispy Bacon & Anchovies


MAINS

14 Hour Braised Beef & Ale Pie, Creamy Mash, Hispi Cabbage & Gravy

Beer-battered Fish & Chips, Peas, Tartare Sauce

Red Pepper & Tomato Risotto, Grilled Artichokes, Piquillo Peppers, Pesto & Pangrattato

PUDDINGS

Warm Chocolate Fondant & Raspberry Sorbet
Cherry Bakewell Tart & Clotted Cream
Salcombe Dairy Ice Creams & Sorbets
(Madagascan Vanilla, Rum & Raisin, Belgian Chocolate or Honeycomb, Mango or Raspberry Sorbet)

ADD A SIDE

Rustic Chips
3.75
Skinny Fries
3.75
Green Salad & Soft Herbs, Avocado Dressing

3.75
Buttered New Potatoes
2.75
Wedge Salad, Ranch Dressing & Crispy Bacon

3.75
Beer-battered Onion Rings

3.50
Creamed Spinach

3.00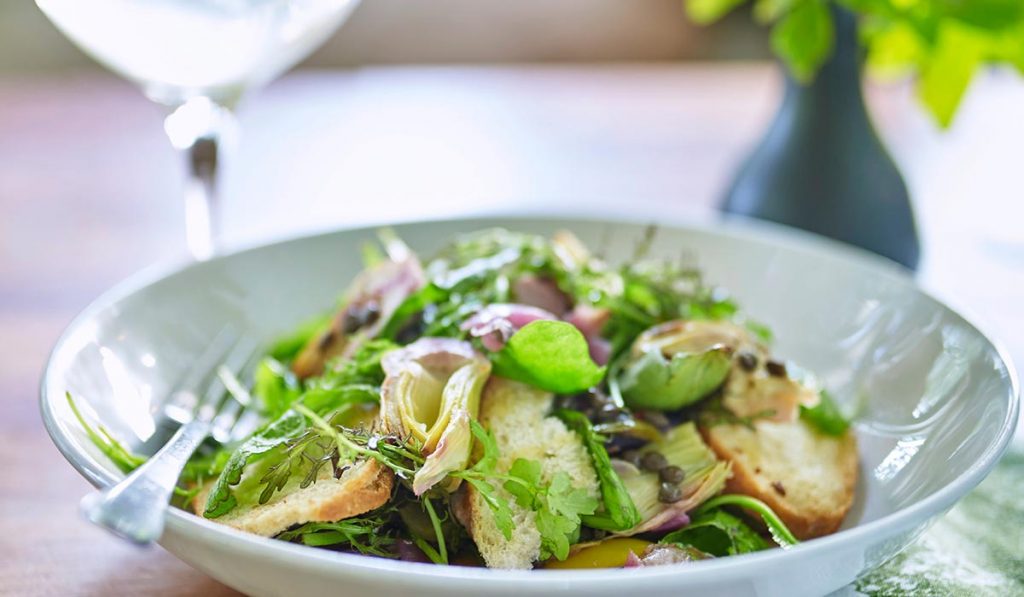 SUMMER LUNCH

DELI PLATES

Warm Mini Bloomer with Garlic Butter
3.25
Buttermilk Chicken & Chipotle Mayo
4.75
Campagnola Olives
3.00
Honey & Mustard Cocktail Sausages
4.00
Whitebait & Aioli
4.00
Beetroot Falafel, Vegan Mayo & Chives
4.50
Single Smidgen of Cheese
3.50
Severn & Wye Smoked Salmon, Brown Bread & Capers
4.75
Dorset Charcuterie & Cornichons
4.00
Prawns, Marie Rose & Baby Gem
4.25
Spinach Pakoras & Coconut Yoghurt
4.50
Tomato Houmous, Toasted Seeds & Pitta
4.00

STARTERS

Warm Crispy Camembert, Tomato Chutney & Rocket
7.50
Sweetcorn Soup, Chorizo Crème Fraîche & Toasted Corn Kernels
5.75
Grilled Smoked Mackerel Fillet, Tomato & Red Onion Ceviche, Basil Oil
7.50
Crab & Avocado Tart, Poached Egg & Hollandaise
9.25
Free-range Ham Hock Terrine, Piccalilli &Toasted Rye
7.50
Pan-fried Native Scallops, Crispy Black Pudding & Pea Purée
10.50

EITHER/OR

Free-range Chicken Caesar Salad, Crispy Bacon & Anchovies
8.00 | 15.50

Moules Mariniére & Crusty Bread
7.25 | 14.00
Watermelon, Fennel & Radish Salad, Bulgar Wheat, Sesame & Ponzu Dressing
6.75 | 13.50
Add Crispy Duck, Salmon or Halloumi for 2.50

MAINS

Free-range Chicken Milanese, Garlic & Sage Butter, Skinny Fries or Green Salad
16.00
Pan-fried Hake, Red Pepper Purée, Tenderstem Broccoli, Pine Nuts & Salsa Verde
16.75
28 Day Dry-aged 8oz Rump Cap Steak, Chips & Béarnaise
19.75
Goats' Cheese & Courgette Pappardelle, Black Olives, Sun-dried Tomatoes & Toasted Seeds
13.75
14 Hour Braised Beef & Ale Pie, Creamy Mash, Hispi Cabbage & Gravy
14.75
Woburn Rack of Lamb, Potato Terrine, Green Beans & Lamb Jus
22.00
Beer-battered Fish & Chips, Peas, Tartare Sauce
13.75
Slow & Low Barbecue Beef Rib, Loaded Potato Skin, Sweetcorn & Sesame Slaw
17.75
Red Pepper & Tomato Risotto, Grilled Artichokes, Piquillo Peppers, Pesto & Pangrattato
14.50
Poached & Smoked Salmon Fishcake, Watercress & Fennel Salad, Lemon Mayonnaise

14.50
Aubrey's Steak Burger, Cheddar Cheese, Burger Relish & Chips
13.75
Add Free-range Bacon, Mushroom or Onion Rings for 2.00

SANDWICHES

Warm Fish Goujon Roll, Lettuce & Tartare Sauce

6.25
Beetroot, Feta & Rocket Wrap, Cucumber & Mint

5.75
Aubrey's Steak Bloomer - Dry-aged Flat Iron Steak
& Red Onion Jam, Watercress & Horseradish
11.00
Add Chips, Salad or Soup for 2.50


SIDES

Rustic Chips
3.75
Skinny Fries
3.75
Green Salad & Soft Herbs, Avocado Dressing
3.75
Buttered New Potatoes
2.75
Wedge Salad, Ranch Dressing & Crispy Bacon
3.75
Beer-battered Onion Rings
3.50
Creamed Spinach
3.00

PUDDINGS

Warm Chocolate Fondant & Raspberry Sorbet
7.25
Iced Strawberry Daiquiri Parfait
6.25
Vanilla Crème Brûlée & Orange Compote
6.50
Cherry Bakewell Tart & Clotted Cream
6.25
Pineapple Carpaccio, Passionfruit & Lime, Coconut Ice Cream
6.00
Salcombe Dairy Ice Creams & Sorbets
5.75
(Madagascan Vanilla, Rum & Raisin, Belgian Chocolate or Honeycomb, Mango or Raspberry Sorbet)
Cheese Plate - Three Summer Cheeses, Chutney, Apple & Water Biscuits
7.75
Mini Pud of the Day or Single Smidgen of Cheese & your Choice of Coffee or Tea
5.50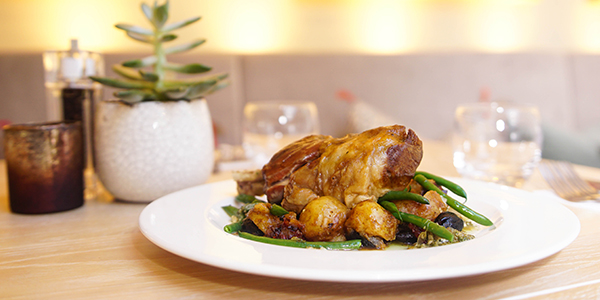 SUMMER EVENING

DELI PLATES

Warm Mini Bloomer with Garlic Butter
3.25
Buttermilk Chicken & Chipotle Mayo
4.75
Campagnola Olives
3.00
Honey & Mustard Cocktail Sausages
4.00
Whitebait & Aioli
4.00
Beetroot Falafel, Vegan Mayo & Chives
4.50
Single Smidgen of Cheese
3.50
Severn & Wye Smoked Salmon, Brown Bread & Capers
4.75
Dorset Charcuterie & Cornichons
4.00
Prawns, Marie Rose & Baby Gem
4.25
Spinach Pakoras & Coconut Yoghurt
4.50
Tomato Houmous, Toasted Seeds & Pitta
4.00

STARTERS

Warm Crispy Camembert, Tomato Chutney & Rocket
7.50
Sweetcorn Soup, Chorizo Crème Fraîche & Toasted Corn Kernels
5.75
Grilled Smoked Mackerel Fillet, Tomato & Red Onion Ceviche, Basil Oil
7.50
Crab & Avocado Tart, Poached Egg & Hollandaise
9.25
Free-range Ham Hock Terrine, Piccalilli &Toasted Rye
7.50
Pan-fried Native Scallops, Crispy Black Pudding & Pea Purée
10.50

EITHER/OR

Free-range Chicken Caesar Salad, Crispy Bacon & Anchovies
8.00 | 15.50

Moules Mariniére & Crusty Bread
7.25 | 14.00
Watermelon, Fennel & Radish Salad, Bulgar Wheat, Sesame & Ponzu Dressing
6.75 | 13.50
Add Crispy Duck, Salmon or Halloumi for 2.50

MAINS

Free-range Chicken Milanese, Garlic & Sage Butter, Skinny Fries or Green Salad
16.00
Pan-fried Hake, Red Pepper Purée, Tenderstem Broccoli, Pine Nuts & Salsa Verde
16.75
28 Day Dry-aged 8oz Rump Cap Steak, Chips & Béarnaise
19.75
Goats' Cheese & Courgette Pappardelle, Black Olives, Sun-dried Tomatoes & Toasted Seeds
13.75
14 Hour Braised Beef & Ale Pie, Creamy Mash, Hispi Cabbage & Gravy
14.75
Woburn Rack of Lamb, Potato Terrine, Green Beans & Lamb Jus
22.00
Beer-battered Fish & Chips, Peas, Tartare Sauce
13.75
Slow & Low Barbecue Beef Rib, Loaded Potato Skin, Sweetcorn & Sesame Slaw
17.75
Red Pepper & Tomato Risotto, Grilled Artichokes, Piquillo Peppers, Pesto & Pangrattato
14.50
Poached & Smoked Salmon Fishcake, Watercress & Fennel Salad, Lemon Mayonnaise
14.50
Aubrey's Steak Burger, Cheddar Cheese, Burger Relish & Skinny Fries
13.75
Add Free-range Bacon, Mushroom or Onion Rings for 2.00

SIDES

Rustic Chips
3.75
Green Salad & Soft Herbs, Avocado Dressing
3.75
Skinny Fries
3.75
Wedge Salad, Ranch Dressing & Crispy Bacon
3.75
Beer-battered Onion Rings
3.50
Creamed Spinach
3.00
Buttered New Potatoes
2.75

PUDDINGS

Warm Chocolate Fondant & Raspberry Sorbet
7.25
Iced Strawberry Daiquiri Parfait
6.25
Vanilla Crème Brûlée & Orange Compote
6.50
Cherry Bakewell Tart & Clotted Cream
6.25
Pineapple Carpaccio, Passionfruit & Lime, Coconut Ice Cream
6.00
Salcombe Dairy Ice Creams & Sorbets
5.75
(Madagascan Vanilla, Rum & Raisin, Belgian Chocolate or Honeycomb, Mango or Raspberry Sorbet)
Cheese Plate - Three Summer Cheeses, Chutney, Apple & Water Biscuits
7.75
Mini Pud of the Day or Single Smidgen of Cheese & your Choice of Coffee or Tea
5.50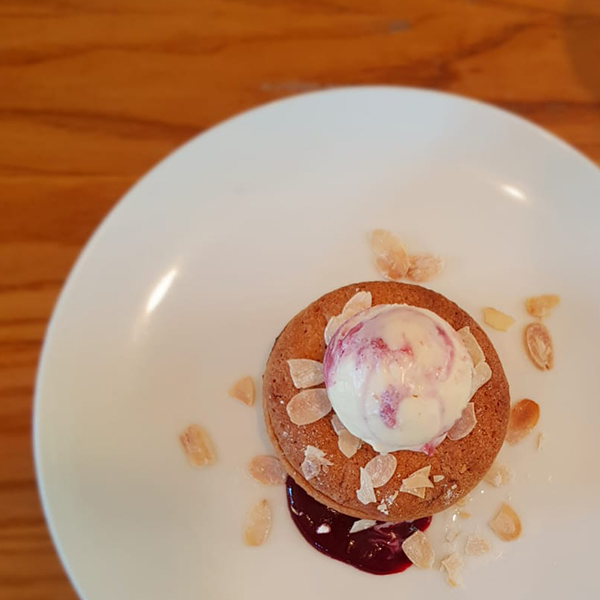 SUMMER CHEESES

Our cheeses change with the season & are properly aged to be served ripe & ready.

FULL CHEESE BOARD TO SHARE (or not!) All four Summer cheeses, served with Chutney, Water Biscuits & Apple
10.50
INDIVIDUAL CHEESE PLATE Choose any three of the Summer cheeses, served with Chutney, Water Biscuits & Apple
7.75
SINGLE SMIDGEN OF CHEESE Choose just one of the Summer cheeses, served with Chutney, Water Biscuits & Apple
3.25
SUSSEX CAMEMBERT
Handmade by Arthur Alsop and Nic Walker in Mayfield, East Sussex. A fantastic cheese, deliciously creamy and multi-award winning. Vegetarian. Pasteurised.
GOLDEN CROSS
A smooth and sweet goats' cheese. Kevin and Alison Blunt have become two of Britain's more renowned cheese-makers, producing cheese from their herd in East Sussex. Vegetarian. Unpasteurised.
GODMINSTER CHEDDAR
A rich, deep and rounded organic cheddar from an award-winning Somerset producer. A real crowd pleaser. Vegetarian. Pasteurised.
SHROPSHIRE BLUE
Produced in Nottinghamshire, they know a thing or two about making world class blues. Made similarly to Stilton, yet slightly sweeter. Vegetarian. Pasteurised.

SUMMER PUDDINGS

Warm Chocolate Fondant & Raspberry Sorbet
7.25
Iced Strawberry Daiquiri Parfait
6.25
Vanilla Crème Brûlée & Orange Compote
6.50
Cherry Bakewell Tart & Clotted Cream
6.25
Pineapple Carpaccio, Passionfruit & Lime, Coconut Ice Cream
6.00
Salcombe Dairy Ice Creams & Sorbets
5.75
(Madagascan Vanilla, Rum & Raisin, Belgian Chocolate or Honeycomb, Mango or Raspberry Sorbet)
TOUCH OF SWEETNESS - Mini-pud of the Day or Single Smidgen of Cheese & your choice of Coffee or Tea
5.50

ONE LAST GLASS

Diplomatico Reserva Exclusiva Rum
4.80
Ron Aguere Caramel Rum
3.40
Lazzaroni Amaretto
3.40

Château du Tarriquet, Bas Armagnac, VSOP
4.25
Remy Martin VSOP
4.25
Hennessy XO
9.80
Chase Sloe & Mulberry Gin
4.80
Patrón XO Café
4.25
Limoncello Qualitá BT Superiore
5.20 / 50ml
Paso-Vermu Red Vermouth
4.30 / 50ml
Cotswolds Cream Liqueur
5.50 / 50ml
Tanners LBV Port (Churchill Graham)
5.25 / 75ml
Sandeman's 20 Year Old Tawny
9.25 / 75ml
All served as 25ml measure unless otherwise stated.
2.50


HOT DRINKS

Single Origin Rwandan Filter Coffee
2.40
Double Espresso, Macchiato
2.60
Cappuccino
2.95
Americano, Flat White, Latte
2.85
Hot Chocolate
2.75
Luxury Hot Chocolate
3.00
Mocha, Cinnamon or Caramel Latte
3.00
Amaretto Latte, Baileys Latte, Liqueur Coffee
6.25
A Pot of Proper Yorkshire Tea
2.50
Twinings Teas
2.50
Earl Grey, Green Tea, Peppermint, Lemon & Ginger, Camomile & Honey, Spicy Chai
Fresh Mint Tea
2.50
Iced Vanilla Latte
3.00
All our coffees are made with 100% Arabica beans and semi-skimmed milk. If you prefer, we can substitute dairy milk for soya or oat milk, add 15p.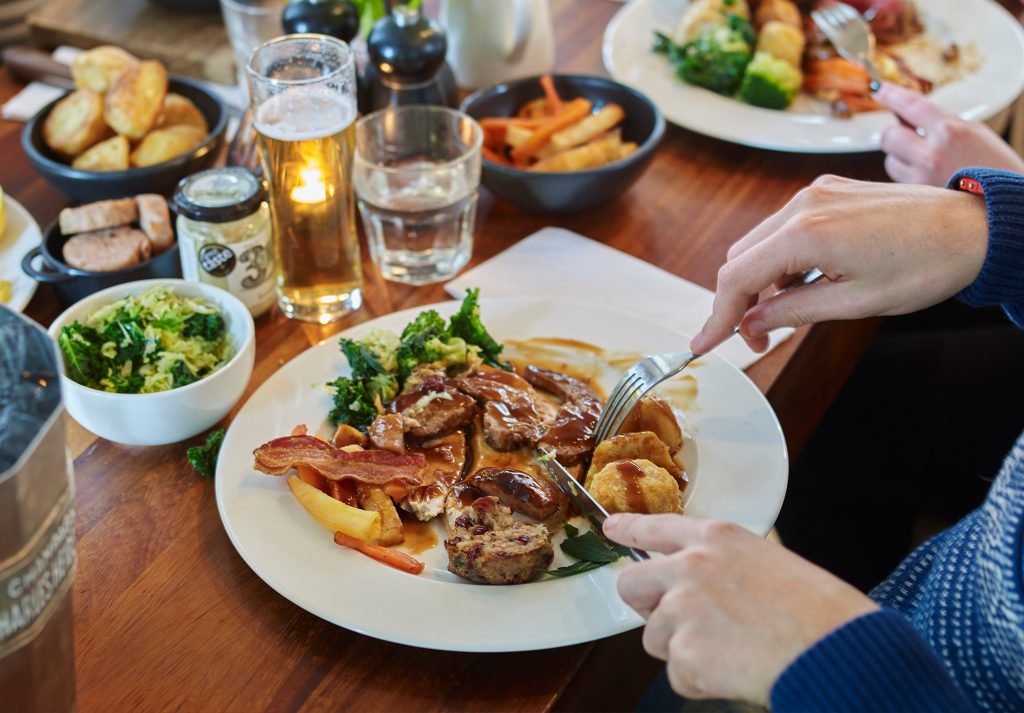 DELI

Warm Mini Bloomer with Garlic Butter
3.25
Campagnola Olives
3.00
Dorset Charcuterie & Cornichons
4.50
Sunday Board - Buttermilk Chicken & Chipotle, Spinach Pakoras & Coconut Yoghurt, Scottish Smoked Salmon & Capers, Spiced Tomato Houmous & Pitta
14.75

STARTERS

Warm Crispy Camembert, Tomato Chutney & Rocket
7.50
Leek & Baked Potato Soup, Wild Garlic Sweetcorn Soup, Chorizo Crème Fraîche & Toasted Corn Kernels
5.75
Grilled Smoked Mackerel Fillet, Tomato & Red Onion Ceviche, Basil Oil
7.50
Pan-fried Native Scallops, Crispy Black Pudding & Pea Purée
10.50
Free-range Ham Hock Terrine, Piccalilli & Toasted Rye
7.50
Free-range Chicken Caesar Salad, Crispy Bacon & Anchovies
8.00 | 15.50
Watermelon, Fennel & Radish Salad, Bulgar Wheat, Sesame & Ponzu Dressing
6.75 | 13.75
Add Crispy Duck, Salmon or Halloumi

SUNDAY ROASTS

All served with Roast Potatoes, Seasonal Vegetables, Roasted Roots, Yorkshire Pudding & Jugs of Gravy
Aubrey's Dry-aged Rump of Beef
15.50
Jimmy Butler's Free-range Leg of Pork & Crackling
15.00
Roast of the Day - See Blackboard
Summer Vegetable Wellington
13.50


MAKE THE MOST OF OUR ROAST

Free-range Pork & Sage Stuffing
3.50
Cauliflower Cheese
3.75
Braised Red Cabbage
3.50
Creamed Spinach
3.00

MAINS

Free-range Chicken Milanese, Garlic & Sage Butter, Skinny Fries or Green Salad
16.00
Beer-battered Fish & Chips, Peas, Tartare Sauce
13.75
Slow & Low Barbecue Beef Rib, Loaded Potato Skin, Sweetcorn & Sesame Slaw
17.75
Goats' Cheese & Courgette Pappardelle, Black Olives, Sun-dried Tomatoes & Toasted Seeds
13.75
Pan-fried Hake, Red Pepper Purée, Tenderstem Broccoli, Pine Nuts & Salsa Verde
16.75

SIDES

Green Salad & Soft Herbs, Avocado Dressing
3.75
Rustic Chips
3.75
Skinny Fries
3.75

PUDDINGS

Crumble of the Day - served at the table with Custard
6.25
Chocolate Brownie & Raspberry Sorbet
6.25
Cherry Bakewell Tart & Clotted Cream
6.25
Vanilla Crème Brûlée & Orange Compote
6.50
Iced Strawberry Daiquiri Parfait
6.25
Pineapple Carpaccio, Passionfruit & Lime, Coconut Ice Cream
6.00
Salcombe Dairy Ice Creams & Sorbets
5.75
(Madagascan Vanilla, Rum & Raisin, Belgian Chocolate or Honeycomb, Mango or Raspberry Sorbet)
Cheese Selection - Choose four 10.50 / Choose three 7.75
Sussex Camembert, Golden Cross, Godminster Cheddar or Shropshire Blue, with Chutney, Water Biscuits & Apple
Mini-pud of the Day or Single Smidgen of Cheese & your choice of Coffee or Tea
5.50
find out more
find out more
Peach Pubs and its partners use cookies and similar technology to collect and analyse information about the users of this website. We use this information to enhance the content, campaigns and other services available on the site. Please click 'I accept' to consent to the use of this technology by Peach Pubs and its partners.