YOUR FAVOURITE PUB IN WOBURN
Peach is a collection of really great pubs, mainly in market towns in the heart of England. The Black Horse in Woburn is a traditional pub with modern features, exposed beams and modern décor.  As a quality gastropub, we serve great ingredients and fresh, honest food in relaxed, welcoming surroundings, always with a kind word and a sense of fun. Today we have twenty one pubs in lovely towns and villages, and an undimmed devotion to Making life Peachy. We have always been passionate about giving back and as we've developed and grown over the years, our ability and motivation to make the world a little better, a little peachier, has grown with us. The Bigger Peach shows our efforts to improve communities, equality in the workplace, and the future sustainability of our world. Our achievements were recognised in 2022, when we won Best Sustainable Pub Company at the Publican Awards, and we're also three star accredited by the Sustainable Restaurant Association. 
Soak up the sun and atmosphere whilst enjoying a bite to eat, a cocktail, or a glass of award-winning wine from our drinks list. We serve food all day and children are welcome to enjoy smaller portions of any of our dishes. We take huge pride in serving the best ingredients we can find, from ethical producers, freshly prepared by our chefs. We're dog friendly in our bar and outdoor areas, bring your furry friend and stop by soon. On our bar you'll find a great range of spirits, beers and softs, so whether you pop in for a drink, a business lunch or a special dinner, we promise you a friendly welcome. Find us here.
We look forward to seeing you soon!
Charlotte & The Black Horse Team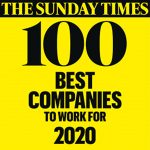 ---
Charlotte Andrews, General Manager
From a young age Charlotte knew she didn't want to be sat in an office all day. When she realised being a professional show jumper might be out of reach, for school work experience she choose a restaurant that she loved going to and that was that. From then she loved hospitality and has been in the industry ever since. From a family of keen foodies, you'll often find her Dad at the BBQ, even out in the rain with his umbrella!
Charlotte's career has grown from strength to strength, even presenting to CEO's at Bills and being awarded with the biggest venue converting numbers for their area. A really proud moment for her.
The Peach values really stood out for Charlotte and motivated her to join us. Her long term goal is to be helping other Peach Pubs using her wealth of experience. Charlotte also loves hosting events in the pub, see one of her blogger events here.
When she's not in the pub, you'll find Charlotte with her horse, Frenchie, practising for their eventing dreams. Pop by and say hi to Charlotte soon.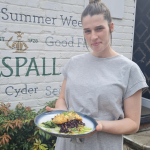 Charlotte's Favourite Dishes
"My favourite Peach dish  is the Miso Cod, I just love how the flavours all come together and how light and refreshing the dish is. My favourite dishes to eat outside of Peach are anything exciting and rustic. I love to try new dishes that I haven't had before, so I couldn't pin point a specific dish that would be my all time favourite."
---
Roger Hayward, Head Chef
Roger grew up in Sudbury, a small town in the Derbyshire Dales. Aged nine Roger discovered his love for cooking, spending weekends getting creative in the kitchen with his family. From that point on, Roger knew he was destined for a career in the kitchen. Since then, Roger has progressed very successfully as a Chef and says one of his biggest career highlights was working in the kitchens at the 2012 London Olympics. Since then, Roger has settled very well within Peach. He loves how invested Peach are in their teams both front and back of house, and see's the company as a great way to progress his career even further. On his days off you'll find Roger spending quality time with his kids who are both big foodies and love to help out in the kitchen. Sounds like we've got two future Peach chefs in the making!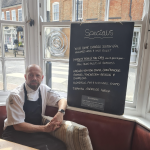 Roger's Specials Boards
"Our specials are written as a team effort, we have a team Whatsapp group where everyone shares ideas. Each week we sit down as a team and create the weeks specials. Having been here for over 3 years, I have definitely gotten to know Woburn and what The Black Horse guests are looking for in specials. Our Woburn Venison and Highland Mussels are our most popular dishes."
---
Frazer Sutherland, Partner
Frazer always wanted to be in hospitality since 'year dot'. Dabbling in domestic science at school only fuelled his passion and catering college sealed his fate. He loved working at The Summit in Sydney and cruising round the Caribbean. Back in London, he clubbed it at The Green Room, now Chinawhite, before moving to Harvey Nicks Fifth Floor. Heights must have suited Frazer because his next job was at The Oxo Tower, when the brasserie with the bird's eye view of London was really flying. Since becoming a partner in Peach in 2008, Frazer has looked after many of our pubs including, The Thatch, The James Figg, The Swan and The Embankment. 
---
OUR TIME IN LOCKDOWN
As we entered lockdown, our first concern was everyone's wellbeing and their ability to support families in such unprecedented times. Peach have been great in helping our team, with access to our hardship fund, zoom quizzes, online DJ sessions and masses of social contact, keeping us all in touch. Some of the pubs helped with Your Hub, a Social Enterprise to support the local community. From feeding homeless, to Youth support centres, NHS call centres, hospitals and care homes.
See more of what the Peach team have been up to below: