the Black Horse in Woburn
Welcome to The Black Horse at Woburn. The Black Horse offers a blend of traditional and modern – exposed beams, cosy décor and a modern "best of British" menu teamed with an exciting and varied wine list and real ales. You can be assured of a warm welcome and great dining experience every time.
the peach family
Our aim is to make our pubs great places, full of character, great individual places to eat, drink and sleep; a place for local people, businesses, families and tourists to meet and call their own. Every pub is unique, individually designed to suit their town or village, and respecting each pub's history.
Peach is not a chain, it's a group of like-minded enthusiasts. If you like one of our places, you're almost bound to like the others. Click here to find them!
We will never be the biggest pub company; we're out for perfection on a small scale, fuelled by passion for good food and drink and a keen interest in protecting the environment.
Our Gastro pub in Bedfordshire is open every day from 11am for coffee, lunch, afternoon tea, drinks and dinner. We take huge pride in serving the best ingredients we can find, from ethical producers, freshly prepared by our chefs. Whether you pop in for a pint, a business lunch or a special dinner, we promise you a friendly welcome. All day long.
We look forward to seeing you soon!
Bernard  & the Team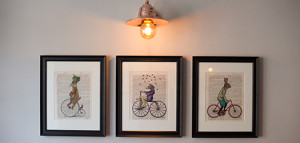 ---
Bernard Valapinee, General Manager 

The lovingly hand-made cakes of Patisserie Valerie certainly proved too tempting for Bernard when his holiday job suddenly turned into the job of a lifetime. e loved being surrounded by good things to eat and drink and struggled to keep his mind off them even while studying at uni.  So it was that he returned home to start work in Milton Keynes' All Bar One and immediately loved the buzz. Before long he was in their chic Picton Place bar in stylish Marylebone, keeping the after work crowd well fed and watered, becoming assistant manager in no time at all. When Bryon opened their first place in thecentre:mk, Bernard jumped at the chance to be there, and soon their proper hamburgers were going down a treat. His love of good food took him next to The Swan at Milton Keynes village, a lovely country pub he quickly made home.  It was only our own lovely place – one he'd always wanted to run – that drew him away. Now he's having the time of his life!
---
Bart Okla, Head Chef
Bart's UK kitchen career started when his brother (also a chef) found himself short of a KP, so dragged him over from

Poland kicking and screaming to do the washing up. Within a month, he'd learnt the language and was cooking, returning to Poland as a confident Sous Chef in a tip-top 5 Star Hotel.
Luckily for us, Bart decided the UK was where he wanted to be, and 4 years ago joined Peach, where he worked in most of our pubs in various roles before taking the Sous Chef position at the busy Embankment in Bedford. Stripes earnt, he's now proudly running The Black Horse as Head Chef, and we couldn't be happier.
If you ask Bart who his hero is, he'll reply Gordan Ramsey, who inspires him to cook excellent quality ingredients with the love they deserve. Less is more is his philosophy, and he's got the good to back it up, cooking fabulous seasonal dishes and specials that's fly off the blackboard.
There are lots of surprises and some amazing ideas tucked safely up his sleeve for the year, so if you haven't already, get booking that table!
---
The Peach Foundation

The Peach Foundation is a grant giving organisation, we work with Local Heroes promoting and supporting projects that make a real difference to the communities we live and work in. Each menu includes a chosen dish which supports the Peach Foundation, for each dish sold, 25p will be donated. This raises approximately £1000 per year. Our focus is to support local individuals who are passionately promoting and living our values in one or more of these areas:
Food Provenance – happy animals/tasty fruit and vegetables
Healthy Eating – promoting better health in the community
Sports Education – promoting and/or providing local sports facilitates for all
Planetary Hero – saving our planet one small step at a time
To find out more, click here.