One week in!
One Week In…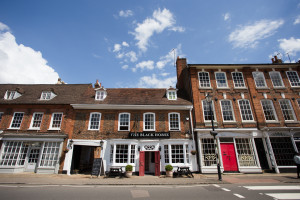 Our first week in the new look Black Horse is now complete, and even in my biased opinion, the pub looks great. Gone are the dark colours, replaced with a bright and airy new-look bar, lovely wooden floors and not a drop of black paint in sight!
If you haven't come and looked yet, make your way down and see what we've done with the place. We've given it a fresher, more modern feel, whilst still keeping the rustic charm that epitomises The Black Horse, and our village of Woburn. I especially love the wall at the bottom of the eatery, ordained in copper, all from the fantastic Antiques store four doors up the road.
Not only did we refurbish the pub, but launched our new summer menu; Roasted Hake Fillet, King Prawn & Cauliflower Thai Curry & Coriander is a personal fave and really worth trying. To get started, give the Iberico Chorizo & Cheddar Croquettes a go and finish with the Valrhona Chocolate & Raspberry Mousse, Pecan Cookies, leaving you a very happy human. We also have a brand new drinks and wine list also, so you can quench your thirst with a grand gin or classic cocktail, a great wine, or even a fancy soft drink for those designated drivers.
If you need an even bigger excuse to come down, our garden party is on Sunday 5th June. We'll have live music from Alison Carter and Chris Hepworth, and a great BBQ too. The only thing I can't promise is the reliability of the great British weather, but we will celebrate regardless.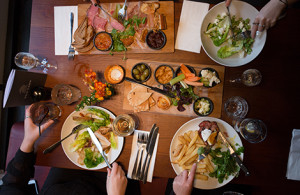 Why not come to our summer menu tasting evening on Thursday 9th June, and tell us what you think of our new menu? Head Chef Harry will showcase his favourite dishes on the menu, talk you through the cooking process, and answer any questions you might have. Just £30, including wine, you surely can't turn that offer down? Give us a call at the pub on 01525 290210 to book your place.
I look forward to welcoming you to the new look Black Horse, enjoying your traditional pub in all its new glory!
Rob