Summer at The Black Horse
The season of wonderful British soft fruit and the freshest green vegetables, tomatoes & sweetcorn. Cornish lamb and day-boat fish are abundant & beautiful.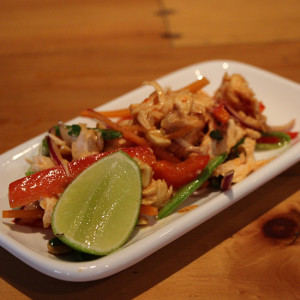 If you haven't heard already our new summer menu launched last week. With succulent strawberries finally making a return it is safe to say we are ready for summer here at The Black Horse.
This time around we are trying out something new. We have introduced 'Pots or Boards'. You can choose from an array of small pots to have individually or pick 4 to make a board.
Some of the Butchers pots include – Fillet Steak, Green Beans & Tomato Salad and Pulled Smoked Ham & Piccalilli.
Fish pots – Chilli-roasted Salmon, Asian Slaw & Peanuts and Mini Fishcakes & Sour Cream
Veggie pots – Warm Crispy Camembert & Tomato Chutney and Red Lentil Falafals & Chilli Yoghurt
These pots are perfect to snack on whilst enjoying a beer in our Aspall Cider beer garden or a cheeky glass of Prosseco at the bar.
As the heat starts to rise, lighter food is the way forward and we have some perfect dishes on offer.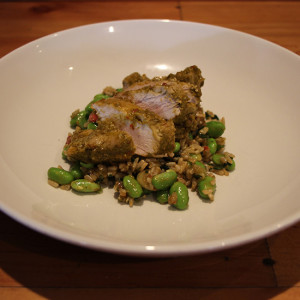 On the right is our Free-range Mojo Chicken, Edamame Bean & Brown Rice Salad. The perfect dish on a hot summers day. The spiced chicken mixed with the crunch of the brown rice salad makes for an ideal salad paired with a glass of Tummil Flat Sauvignon Blanc.
Fancy fish? We have our Pan-fried Native Scallops & Monkfish, Artichoke & Red Pepper Risotto, Basil Olive Oil.
Or if you want something a little more? Why not try our Herb-crusted Lamb Loin, Summer Vegetables, Parmentier Potatoes & Rosemary Jus.
Veggie options include our lovely Aubergine, Mozzarella & Olive Escalope, Tomato & Chilli Salsa.
Even though some of us are trying to get that "summer bod" a cheeky light dessert won't hurt. Here is our Iced Piña Colada Parfait & Lime Marshmallow. This dessert will be sure to make you feel as if you're sipping on a cocktail somewhere tropical.
There's a low down of some of the things we have to offer this summer. Why not come down and try them out for yourselves? As a team we really enjoyed our tasting and we're sure you will too.