What lovely reviews!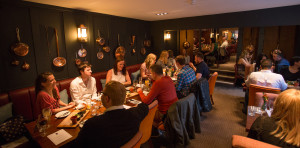 Last week we invited a few local press friends of ours down, to find out exactly what they thought of our new look and our Summer Menu. We're delighted to say they loved it! Here are a few of their reviews if you've not yet had the chance to come down…
'Popular village local The Black Horse in Woburn has reopened this week following a complete refurbishment which has made the pub an even lovelier place to eat, drink and spend time in'
'What a lovely evening at The Black Horse Woburn, it won't be my last, that's a definite and I can't wait to see some of these dishes in their full scale masterpieces.'
In conclusion, the best compliment I can give The Black Horse is this: after the meal, Rob, the manager came and sat down next to me. 'I know you, I've seen you in here a few times', he said. I had to agree that I had. 'So, why haven't you blogged us before?' Well, here's the thing Rob, I replied; I never blog with friends or family because it always ends in disaster. So the reason that we keep coming back with the family is because The Black Horse is one of our secret little places where our reputation for knowing where to find good food will be secure. But I guess it's not so secret any more is it?!!
'For a pub, the quality of food was in another league to typical pub grub, as many these days rely on a selection of burgers and other 'gastro' dishes. The Black Horse went above and beyond'
"We're becoming more spoilt for choice in Bedfordshire for delicious meals in delightful pub restaurants and the newly refurbed Black Horse should be near the top of your list for places to try or revisit. With such a varied and delicious offering, it only means we have to keep coming back to give each dish a go!"
"Next was a beautiful taster of thai green curry that was rich and creamy with juicy chunks of hake and king prawn. The fine flecks of cauliflower in the sauce create a nice thick texture."